Natural Play are leisure design specialists. We have collectively over forty years experience in the leisure industry and worked on projects all over the UK and mainland Europe. We can offer a full design and build package to create your perfect leisure attraction.
Outdoor Play
With highly experienced installers, Natural Play can bring to life your outdoor play spaces with bespoke, creative, safe and durable designs.
Design & Planning
The design and planning stage at the beginning of the project for us is extremely important. During this time we try to turn our clients ideas into a visual reality with detailed concept sketches, concept plans and 3d computer generated models. We also at this point breakdown the project costs so that budgets are met to the clients needs.
Playground Equipment
Our range of playground equipment is only limited by our imagination. We design standard municipal kit all the way to large bespoke themed play towers. We can draw upon a crew of installers with over twenty five years experience that can make your project a reality. We have also experience installing steel playground equipment.
Playground Surfacing
A very important aspect to play is the safety surfacing. Natural Play has experience in dealing with all forms of impact absorbing play surfaces. We have installed wet pour, rubber mulch, play bark, sand, rubber safety landing tiles, grass matts and shock pad under artificial grass. 
Post Installation Servicing
Once we have completed a project Natural Play wants to make sure that the client is happy with the end result for the long term future. At the end of a project we offer a post installation service package that can keep the play install in excellent condition. We also work closely with ROSPA who we appoint after every install to do the EN standard inspection.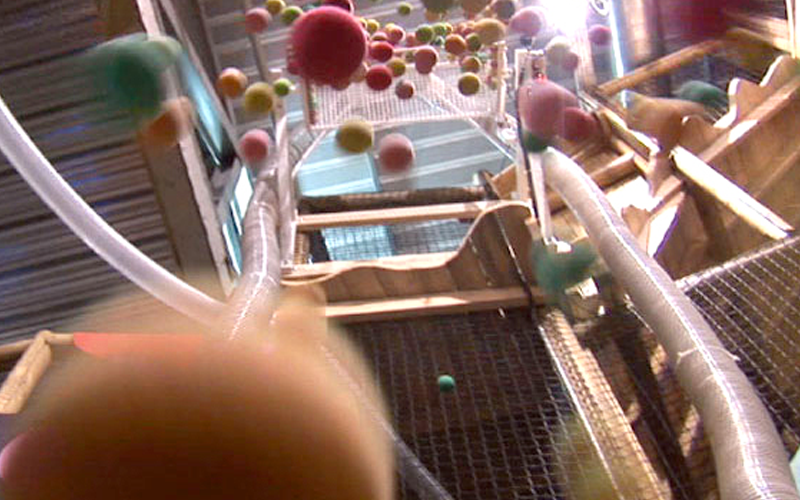 Indoor Play
With timber, we bring the outdoor play spaces inside creating a natural, warm and safe space to play in no matter what the weather does outside.
Indoor Play Design & Planning
Spending time with the client or architect is how we begin the process of design for an indoor play attraction. Visiting the site several times to complete a full survey of the area, then through many meetings with the client understanding how they wish their indoor play space to work and flow.
Timber Indoor
We are timber specialists and have constructed many indoor play centres. We love the idea of bringing the outdoors to the indoors. Timber indoor play brings a warm, natural and quality feel to your indoor project. We can enhance any indoor project with themed lighting, background sound systems and even natural themed scents.
Soft Vinyl Indoor & More
Timber specialists we are but we do not limit our indoor play installations solely to timber. We have designed and built many indoor projects with soft vinyl play kit, plastic and fibre glass play kit and steel play kit. We have also installed interactive electronic game systems, glowing ball pits and much, much more.
Cafes & Seating Areas
An integral part to any indoor play activity is a hub for the family to sit and enjoy refreshments. Natural Play always consider how seating should be placed around an indoor play space for families to have clear view of their children at play. We also can built your cafe and complete it with a fully fitted kitchen.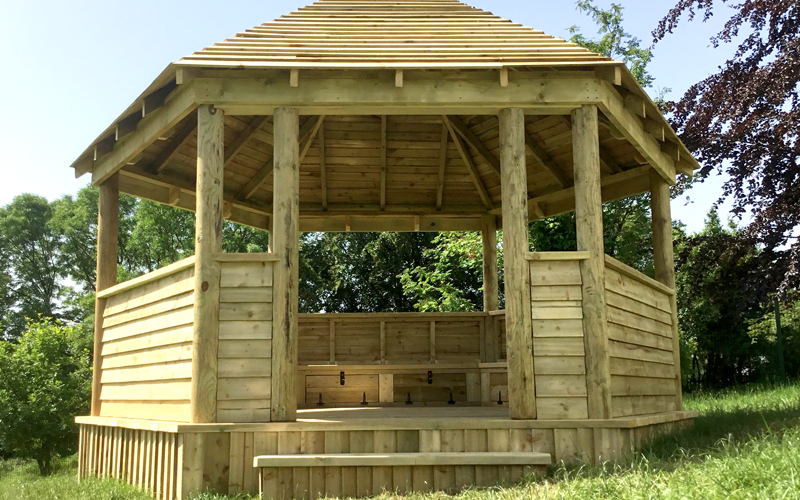 School Equipment
Natural Play over time has created an extensive range of School equipment from messy mud play, outdoor classrooms and sensory paths.
Outdoor Classrooms
Rain or shine it is great fun to go outside and leave the classroom to learn. Natural Play have built many covered timber outdoor classrooms. We can build in seats, benches, storage areas, and hand carved story telling chairs for teachers. The outdoor classroom is a great space for learning.
Trim Trails
Keeping the students active at all ages is important for their mental well being and their physical health. We offer a full range of trim trail equipment that can improve strength, dexterity, coordination and balance. With a wide range of challenge levels, trim trails can be made to suit all key stages of education.
Sports Pitches
Natural Play can supply you with simple game walls with a football goal, a cricket wicket and a basketball hoop, or we can supply large open, fully marked sports pitches in bright artificial grass colours.
Educational Fun
Inspiring the mind is the goal of any school. Natural Play have installed maths study stations, english language study stations, bug hotel study stations, art and creativity study stations, roleplaying houses and shops, story telling circles, stages for the presentation of plays and green and growing areas for green fingers to plant and grow their own vegetables.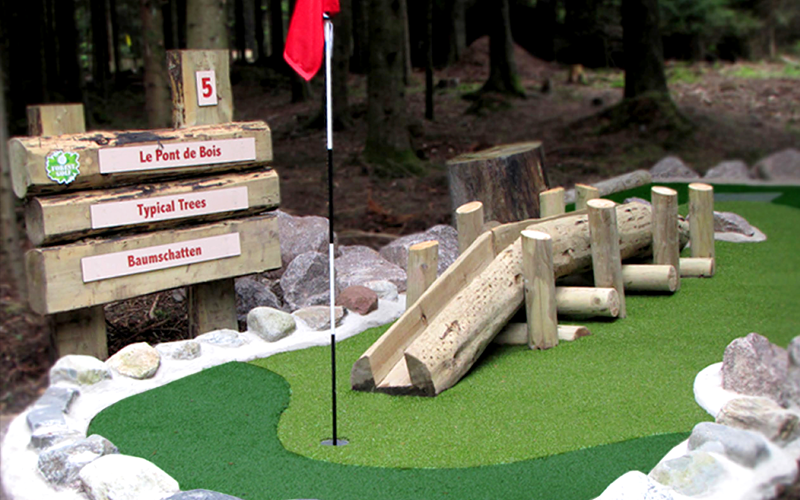 Adventure Golf
Natural Play is committed to quality, creativity, craftsmanship and customer care and this is always present in our adventure golf project builds.
Design & Build
We understand that every adventure golf course and every adventure golf course client is very different. We pride ourselves on understanding our clients requirements to design and build for them a unique, attractive, imaginative and long lasting family attraction. 
Materials
Natural Play uses many different materials to create an adventure golf, we review this closely with the client during the course of the design process. Courses can be made up of natural log stumps, machined logs, boulders, artificial rockwork, themed sections, landscaping borders, artificial grass mounds and much more.
Themes
A golf course theme is very important and Natural Play has designed many different types. We have built courses with the following themes – pirate, jungle, dinosaur, forest walk, maritime and farm, you are only limited by your own imagination. Alternatively we can design and build natural, planted and landscaped golf projects.
Accessories
Once we have created the golf course, Natural Play will supply all the golfing accessories you will need to play the game. These accessorise can also be bought from us at any time from putting clubs, golf balls, flags and posts, scorecards, pencils and ball dispensers.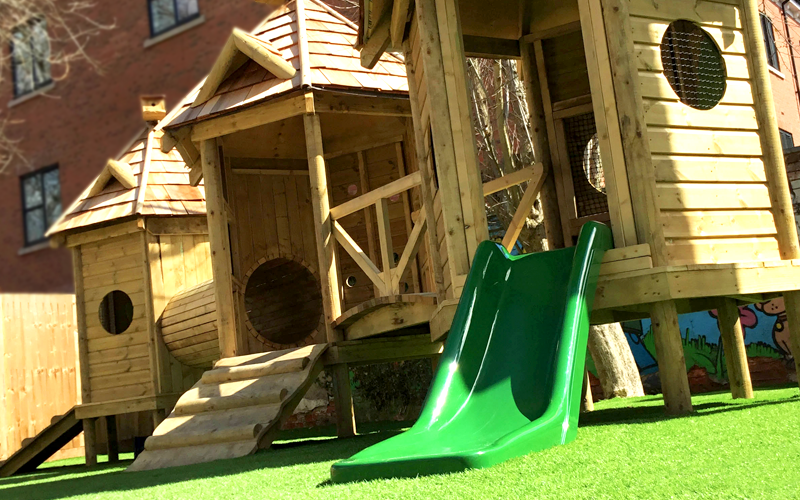 Nurseries
Nursery gardens can be transformed by Natural Play into places of imagination, growing, play, creativity, discovery and  communication.
Nursery Garden Design
Understanding the space is so important when designing a nursery garden. Natural Play will work out the best design possible for your available space. We will work closely with the client to best interpret their needs and the needs of their pupils to create a magical, safe and fun garden space.
Educational Play
Playing and having fun with your friends is the best thing to do when you are in nursery. Natural Play wish to provide that for them, but we also wish to teach them as they play. We have created many garden areas with math stations, literacy stations, art stations, play houses, messy play and role play.
Outdoor Learning
Children love going outside to play and going outside to learn is just as fun. Natural Play can create areas where children can escape to a quiet area to read, sit in a story telling circle with a hand carved story telling chair for the teacher. We can also create large green houses, stages and sensory paths.
Flooring
We can offer a large array of ground surfaces for your garden area from wet pour, rubber mulch, play bark, sand, safety tiles and concrete game markings.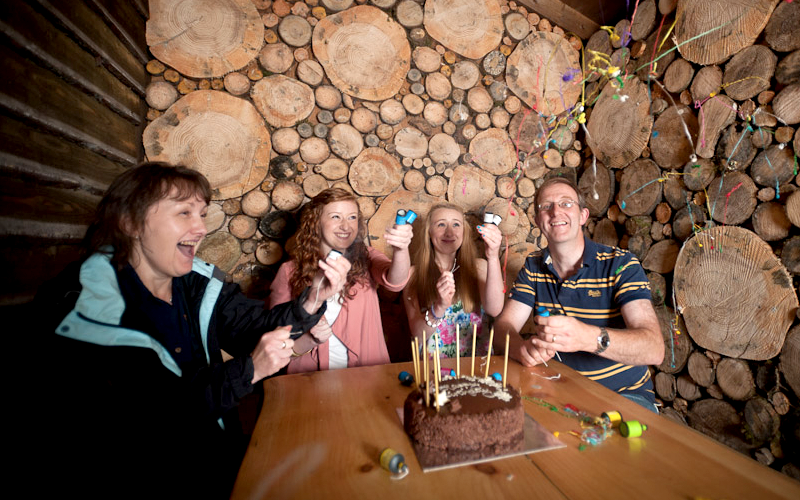 Specialist Projects
Natural Play can turn their skill set to many of your projects needs, from concept design, wildlife enclosures, play sculpture, fencing and decking.
Wildlife Enclosures
It seemed a very natural progression for us to start creating enclosure projects for zoos, farms and wildlife parks. We still brought to the table our imaginative skills and have created some amazing enclosure attractions from Little Africa at Paultons Park to Terry Pratchett's Owl Parliament at Birdworld.
Play Sculpture
We very lucky to have skilled carvers and chainsaw artists working with us at Natural Play. They bring an amazing creative element to the table. We have supplied carvings of baboons, horses, goats, pigs, orangutans, fennec foxes and a large array of birds.
Bars & Restaurants
Our themeing and carpentry skill allows us to design, plan and build themed restaurants and bars. We can create bar tops, bar shelving, fitted kitchens, fully fitted and plumbed toilet facilities, decking, awnings, timber seating and even have created a winch which lowered a crate of beer into the flowing river below to keep it cool.
Concept Design
Always at the start of any project is the concept design stage. We pride ourselves on our in house artists who can bring to life the ideas that are in your imagination. Creating concept sketches, full colour visuals, working plans, 3d computer images and 3d printed models. 
Treetops Nurseries
Simply Mike, Dean and the rest of the team are the best I have worked with, delivering innovation, inspiration and project management. From the 1st meeting their infectious passion for their work is evident, the handmade drawings are a work of art bringing their imaginative ideas to life. The delivery side is always efficient and their ability to work with the nursery teams and parents makes the whole process hassle free. If you are seeking something special you really should be speaking to these guys
Jamie Hutchinson
Commercial Director Treetops nurseries
Swansea Community Farm
I would like to thank all the staff at the Natural Play Company for all the hard work, help and support we had from them at every stage of our recent Mud Kitchen project. It was a pleasure to work with all the team from the initial ideas to the completed project. Once we knew we had the funding we were on a very tight schedule to get it complete in time for the summer. They consulted with us and listened to our needs and wants at every stage of the project.I think we changed our minds a few times during the design stage and then again a little during work. All the staff were very polite, prompt and professional throughout (one of the carpenters actually continued to work during a downpour of rain to get it completed on time). We now have a completed Mud Kitchen that has attracted a lot of interest from families and children, it has been a big asset this summer at the farm and I am sure it will be loved by children for years to come.
Alyson Williams
Child & Youth Officer
Birdworld
We were impressed with The Natural Play Company from the very first discussions when we were exploring options. Our concept was well understood, a great initial concept drawing produced followed by a few iterations to get the details right. All this without any costs to ourselves. Once agreed, the build team were on site when we expected, worked hard and completed the project on time, even with a few extra little bits along the way. The completed build met all of our expectations and has proven very popular with visitors and owls alike, with four species settling down to breed within a couple of months. We were very happy with the professional and ethical business practices of The Natural Play Company and we look forward to working with them again.
Duncan Bolton
Birdworld Curator
Brynnau Primary School
We were very impressed with the quality and skill of the workmanship for our New Nursery Garden. The team at Natural Play Company were committed to meeting our needs and happy to work with us and modify ideas until we had developed the right design for the Nursery Garden.  From the initial design to the installation of the garden we found Natural Play Company to be, very professional, reliable and very supportive to us as a customer. We are so pleased with the finished Nursery Garden – The workmanship has been completed to a high standard
Mrs Vanessa McCarthy
Head Teacher
Contact us today for a quote